Explore Singapore: Itinerary and Travel Tips
|
[DISPLAY_ULTIMATE_SOCIAL_ICONS]
Singapore is a role-model when it comes to one of the most modern, clean, safe and tourist-friendly countries in Asia. It is also a global financial center with tropical weather and host to a multi-cultural expat community. The country is always developing new attractions and projects so each time you visit, there is something new to see.
ITINERARY: THINGS TO DO IN SINGAPORE
Land at Changi Airport and Take Taxi (Comfortable & Safe) to your Hotel. Taxis are metered and cost between $20-$40 depending upon peak/off-peak times and distance.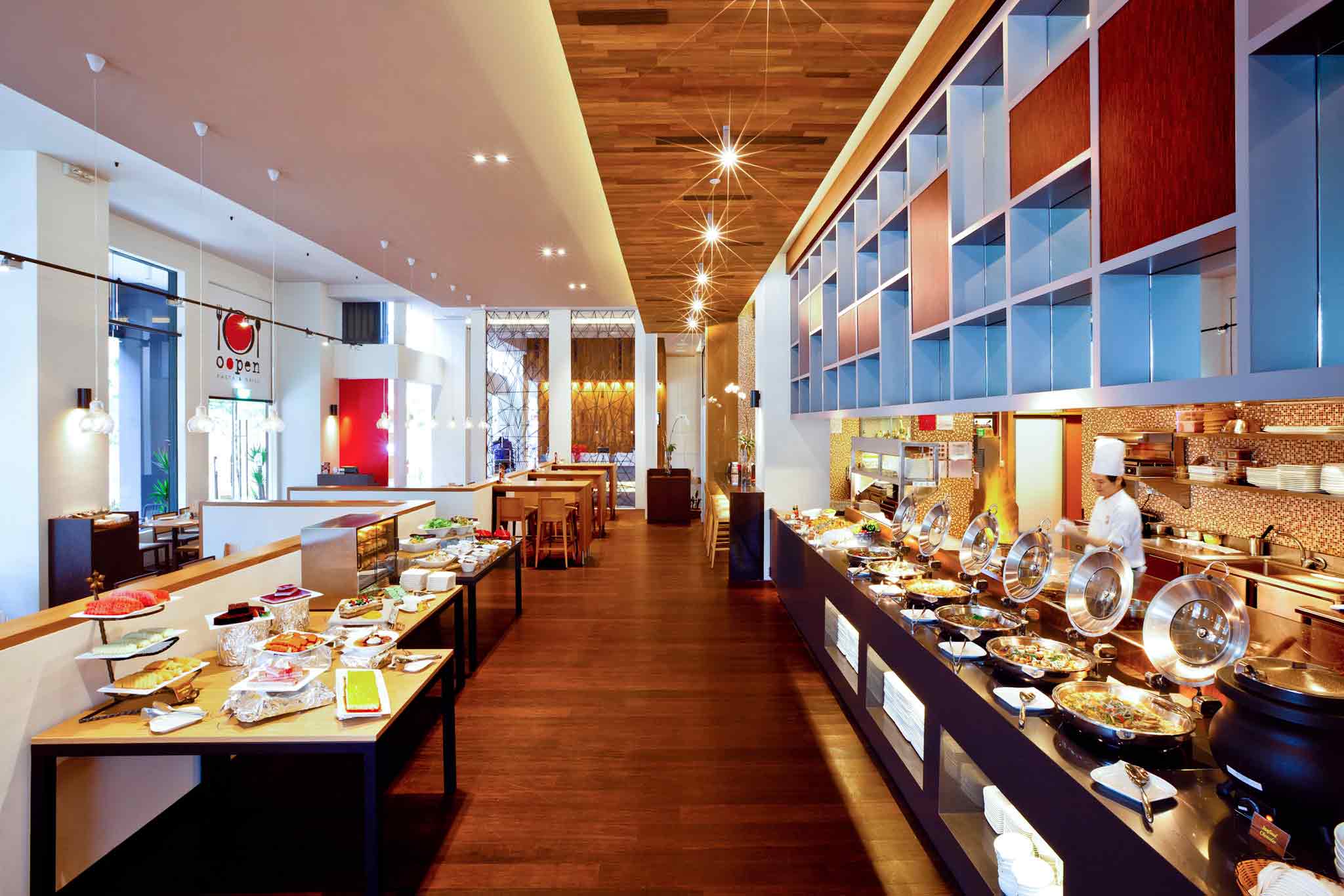 I chose to stay at Ibis Singapore Novena due to its central location, grocery and hop on/off bus stop below the hotel and proximity to restaurants and shopping areas. It's a decent 3-star hotel with comfortable beds, friendly staff and good variety of morning breakfast. Moreover, I believe anyone visiting Singapore on a tight budget should spend on sightseeing rather than hotels. Interested in Making a Booking? Click Here for a Great Deal!
Day 1 [Gardens by the Bay, Singapore Flyer, Marina Bay Sands, Merlion Park] – A must-visit on every traveler's list, Gardens by the Bay is a collection of three waterfront gardens that have received more than 50 million visitors till date:
Bay South Garden [Supertree Grove, OCBC Skyway, Flower Dome, Cloud Forest] – A prominent and iconic display here includes 18 unique Supertrees standing as tall as a 16-story building are structured using steel and include more than 162,900 live plants from more than 200 species. For a closer look, go to the 128 meter long OCBC skyway connecting two Supertrees to the groove.
Tickets for OCBC cost SGD 8 for Adults & Seniors & SGD 5 for Children between 3-12 years.
Next head to the beautiful and colorful Flower Dome, a cool-dry conservatory that is the world's largest greenhouse showcasing exotic plants and flowers from five continents comprising Olive Grove, Californian Garden, Australia Garden, South American and others.
Located next to the flower dome is the Cloud Forest, a one of kind conservatory with a 35 meter high mountain home to lush plants, orchid species and world's largest indoor waterfall. The misty atmosphere and Tassel Fern plants are something one should experience.
Entry to the Gardens is FREE & Tickets for Cloud Forest + Flower Dome cost SGD 28 (Adult) & SGD 15 (Children between 4-12 years)
In case you are traveling with kids, do check out the Far East Organization Children's Garden, a place filled with water-play features and interactive education programs. This is a great place to chill and cool off in the tropical heat.
Bay East Garden – An open lush green landscape to get away from busy city life, this place is a favorite place for locals and tourists to relax and walk. Considering the amount of walk (about 22 minutes from South Garden), you won't miss anything shall you decide to skip this.
Bay Central Garden – Serving as a link between south and east gardens, the bay central offers a 3 km promenade giving you one of the best views of the city. The walk is about 17 minutes and will take you straight to Singapore Flyer at Raffles Avenue. The Flyer is 165 meters tall observation wheel that gives you amazing panoramic views of the city.
Marina Bay Sands Area – Head west from Raffles Avenue towards Bayfront Avenue towards Spectra Light & Water Show (a total of 17 minutes walk). The FREE show is between 8-9 PM so plan accordingly. For hungry tummies and shopping addicts, there are plenty of options available.
Merlion – A mystical creature's symbol with lion's head and fish body, this is Singapore's national icon and a major tourist attraction. You can take a 20 minute walk from Marina Bay Avenue/Spectra Light & Water Show towards Merlion Park for close-up pictures.
Useful Tip for Day 1 of Your Trip:
If you do not want to exert yourself and make the best of your trip, Taxi is the most convenient option to travel from your hotel to the Gardens. It takes 8-12 minutes (with toll) or 20 minutes (without toll) to reach your destination under normal traffic conditions. The one way cost is anywhere between USD 10-12. Start with Gardens and remaining walks to Flyer, Bay Avenue & Merlin wont hurt your feet.
Day 2 [Universal Studios at Sentosa Island] – Bringing Orlando's fun vibe to Singapore is the world-famous Universal Studios at Sentosa. 7 theme zones with 24 rides, Hollywood parades, live bands, delicious food and spectacular fireworks, it's time to put on your holiday shorts & tees and step into the world of joy. Kids will be thrilled to see Minions, Elmo and Madagascar cast and Shrek's 4D show along with many Meet & Greet activities. Those fond of rides must try out the world's tallest roller coaster Battlestar Galactica: HUMAN vs. CYLON.
Tickets are priced at SGD 79 for Adults, SGD 59 for Kids between 4-12 years and SGD 41 for Seniors aged 60 and above.
Options for Day 2 – If you've already been to several universal studios and want to check out Sentosa Island instead, you can visit:
a. Skyline Luge – This includes two fun attractions – The Skyride, which is a 4-seater chairlift that gives you a bird's eye view of Singapore. I did this ride twice, once in the afternoon and later in the evening with a view of the Wings of Time fountain show.
After an adrenaline rush at the chairlift, time to experience gravity on a special wheeled cart descending from the top at Luge. There are 4 different tracks to choose from and several ticket combos and occasional offers.
b. Butterfly & Insect Kingdom – where you can see a large variety of fluttering butterflies and exotic insect, giving you a rainforest feel. Admission fee is SGD 20 for Adults & SGD 12 for Kids between 3-12 years
Day 3 [Chinatown, Little India, Kampong Glam] – It's time to sink in and experience the streets of Singapore. I took the hop-on-hop-off City Tour from City Sightseeing that costed $29.42 (red route) that picked and dropped me back below my hotel. The price was way cheaper compared to traveling by taxi and covered all the three key areas among others. Little India is Singapore's Indian community's hub with colorful buildings, busy market, restaurants and historic temples. I found this place quite over-rated.
Kampong Glam – Another colorful and culturally-diverse area for street shopping and food, Kampong Glam is home to the largest mosque in Singapore – the Sultan Mosque, Arab Street known for it's fabrics and perfumes and the all-hip Haji Lane with graffiti-painted buildings, a variety of shops selling cool stuff and a host of multi-cuisine restaurants to fulfill your cravings.
Chinatown – If you fancy bargain shopping, head to the Chinatown street where you can buy stuff starting at $1. However, if you want to experience spirituality at it's best, head to the Buddha Tooth Relic Temple at South Bridge Rd. Lighting up an incense, listings to the chants of monks and praying in a positively-filled environment was a special experience for me and I'm sure it'll be for you as well. The entrance to the temple is FREE but donations are accepted.
Useful Tip for Day 3 of Your Trip
Wear respectable clothing if you are visiting any of the temples in Little India or Chinatown.
Day 4 [Chose between Jurong Bird Park vs. Singapore Zoo, River Safari & Night Safari] – Although all the options are good, they are located at opposite ends and realistically, cannot be covered in a single day. The Bird Park is Asia's largest with more than 3500 birds from 400 species. If the weather is not too humid, you will really enjoy this place and experience feeding birds. I caught up with rain during my visit so no complaints and I had my raincoat.
Singapore Zoo, River Safari & Night Safari is one massive location with different three different zones that bring the experience of witnessing land and ocean species in a forest setting. It is difficult to point out the favorites since there are lot of trails and options to chose from but my personal favorites were amazon river quest, the night safari walking trail (where you walk by animals living in an an open setting), witnessing pandas and polar bear. If weather is not humid, you can also take the boat ride.
Visit Wildlife Reserve Singapore website for details and tickets.
Day 5 [Day at Leisure / Clarke Quay] – Before you leave, it is a good idea to pack your bags, enjoy a spa or visit Clarke Quay in the evening, a busy place lined up with best restaurants, bars and a pleasant walkway if you want to pick up a beer from the local grocery store and take a walk next to the Singapore river. For foodies, this place has everything from bar food, Spanish, seafood, American grill and Indian.
You can reach there by metro in 40 minutes. If you are staying at my recommended hotel, walk 10 minutes to Novena Metro Station and get down at City Hall. Take Exit B and walk towards River Valley Rd for 11 minutes.
Essential Travel Tips:
1 USD = 1.35 SGD (Always carry local currency)
DO NOT carry chewing gum, liquor and cigarettes, even if they are bought from a duty free shop.
Never eat in a public transport.
Do not litter.
Singapore is a tropical place so always carry your Umbrella and Raincoat.
It can get pretty warm on humid days so carrying a water bottle is a good idea.
The power plugs in Singapore are Type G and voltage is 230 V and the frequency is 50 Hz.
Don't forget to check out my Instagram for more beautiful pictures of Singapore
Singapore as a travel destination receives an overall rating: